David Whitaker
President & Chief Executive Officer
(305) 539-3001
e-mail
David Whitaker has been appointed the next President & CEO of the destination marketing organization (DMO) for Greater Miami and Miami Beach. The appointment is a homecoming for Whitaker who served as a member of the GMCVB team for 17 years (1990 – 2007), most recently as the organization's Executive Vice President & Chief Marketing Officer.
Whitaker left Miami initially in 2007 due to an appointment to the role of President & CEO of Tourism Toronto (now known as Destination Toronto), the DMO for Toronto, where he led the organization for eight years. During his tenure in Toronto, the organization was voted North America's top convention and visitors bureau and convention center in a poll of over 650 meeting planners. Whitaker led successful bids to host an NBA All-Star Game, Pan American/Parapan American Games and World Pride in 2014. The organization was also central to promoting numerous major festivals including the annual Toronto International Film Festival and Caribana – one of the world's largest Caribbean heritage celebrations.
Upon conclusion of his tenure in Toronto and over the past five years, Whitaker has served as the President & CEO of Choose Chicago, the DMO for Chicago. During his tenure in Chicago, he had the responsibility of promoting and selling the largest convention center in the United States, McCormick Place. Under his leadership, the DMO successfully bid on and hosted an NBA All-Star Game, an MLS All-Star Game, North America's first Laver Cup international tennis tournament, a NCAA Frozen Four, and numerous international soccer and rugby events. Chicago, as a destination, has been voted in a prestigious poll of savvy readers of Condé Nast Traveler Readers' Choice Awards as "Best Big City" to visit for an unprecedented four consecutive years (2017 – 2020), all of which occurred under Whitaker's leadership.
David served on the executive staff of the United Way of Miami-Dade prior to his earlier stint at the GMCVB and is a proud graduate of the University of South Florida with a bachelor's degree in Mass Communication & Public Relations.
David and his wife, Lily enjoy long walks and even longer times cooking together. They are both avid boaters and taking in the performing arts.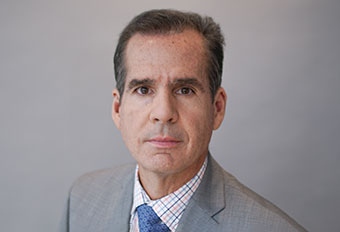 Rolando Aedo, CDME
Chief Operating Officer
(305) 539-3090
e-mail
Rolando Aedo has been a senior staff member of the Greater Miami Convention & Visitors Bureau (GMCVB) since 1994. He currently serves as Chief Operating Officer (COO) and works closely with the President and CEO on all operational aspects of the GMCVB including governmental relations and stakeholder engagement and support.
As the acting Chief Marketing Officer, he also leads the overall marketing strategy and brand development to drive consumer and business demand for Greater Miami and the Beaches as a preferred destination for vacation, meetings, conventions and major events. He also oversees several areas that help drive private revenue to the organization including an 1,100-member partnership division.
Mr. Aedo has degrees from Miami-Dade College and Florida International University and an MBA in International Business from the University of Miami. He is also a Certified Destination Management Executive and was recognized as one of the top 25 "extraordinary minds" in sales and marketing by the Hospitality Sales and Marketing Association International.
Born in Norfolk, Virginia to Cuban parents, he came to Miami at a very early age where he has spent most of his life and is professionally and civically active. He currently serves on the boards of the Miami Dade County Taxi Advisory Group, Miami Bayside Foundation and the Education Fund among others.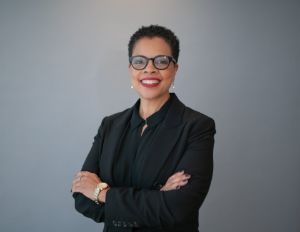 Carol Motley
Senior Vice President, Convention Sales & Services
(305) 539-3020
e-mail
Carol Motley joined the Greater Miami Convention & Visitors Bureau as Senior Vice President of Convention Sales & Services in 2021. She is excited to lead the team as it works to bring meetings and conventions to the Reimagined Miami Beach Convention Center and other amazing venues in Greater Miami & Miami Beach.
She has nearly 30 years of direct experience selling convention and meeting destinations for CVBs, convention centers and hotels during her distinguished career.
Carol relocated to Miami from Washington, DC, where she served as Director of Convention Sales at Destination DC for seven years. She and her team developed sales programs to foster a strong relationship between Destination DC and the hotel community, as well as the Walter E. Washington Convention Center, to yield the maximum number of events and room nights for the city to generate positive economic impact.
Prior to that, she was the Senior National Account for Visit Orlando for five years. She was responsible for strategically placing citywide business in the Orange County Convention Center. Her focus was on soliciting new and repeat business from the Washington, DC, Maryland and Virginia markets.
Before joining Visit Orlando, Carol was Senior Sales Manager for the Hyatt Regency in Chicago, where she was responsible for all citywide business. She has also served as Director of Sales for the Chicago Convention and Tourism Bureau and National Sales Manager for the Baltimore Convention Center.
Born and raised in Washington, DC, Carol is a graduate of the University of Virginia in Charlottesville. She earned a Bachelor of Arts in Rhetoric and Communication Studies with a concentration in Business. She is a member of the Professional Convention Management Association (PCMA) and the American Society of Association Executives (ASAE).

Connie Kinnard
Senior Vice President, Multicultural Tourism & Development
(305) 539-3123
e-mail
Connie W. Kinnard is Senior Vice President of Multicultural Tourism & Development for the Greater Miami Convention & Visitors Bureau (GMCVB). Ms. Kinnard leads the department's efforts in promoting multicultural neighborhoods, attractions, and events in Miami. The Multicultural & Tourism department not only leads efforts internally, but under Connie's leadership, the department spearheads business development programs for small businesses around tourism capacity building along with a cultural program called Art of Black Miami. Art of Black Miami is a marketing platform that highlights all forms of art, artists and galleries in Miami that touches the African Diaspora. Most recently, her portfolio has expanded to include oversight of the GMCVB's Black Hospitality Initiative which is a college scholarship and workforce development program for the tourism industry. In addition, she has broadened her scope of work locally and nationally on advancing DEI opportunities.
Connie has worked in the hospitality industry for over 25 years and holds a master's degree in Management from the University of Phoenix and a Bachelor of Business Administration from Tennessee State University. She is active with numerous civic/service organizations and has served on various professional boards or participated in volunteer organizations throughout her career to include Destinations International (Foundation Board), Miami-Dade Chamber of Commerce, Christian Community Services Inc., National Museum of African American Music, Nashville City Club, Women of Tomorrow, National Coalition of Black Meeting Professionals and Alpha Kappa Alpha Sorority, Inc.
Prior to joining the GMCVB in 2015, Ms. Kinnard worked for the Nashville Convention & Visitors Corporation (NCVC) for 19 years and held the position of SVP of Multicultural Sales & Development. She also served administratively as the National Museum of African American Music's, Chief Administrator respectively from 2003-2008 in addition to but in tandem with her responsibilities at the NCVC.